Google has formally announced that they are making their Core Web Vitals a ranking factor, most likely in the first half of 2021. The Core Web Vitals report can be found in both Google Lighthouse and Page Speed Insights and news that these metrics will now play a part in search engine rankings has web developers, digital marketers and business owners with their finger on the digital pulse pretty stirred up!
What exactly are Google's Core Web Vitals?
Google has insisted that a good user experience is top of their ranking agenda for quite some time now. Speed is a major frustration for users, particularly on mobile, so it is no surprise that Core Web Vitals primarily measure site speed. But what does 'speed' mean when it comes to a website?
In a post on Twitter, Google's own John Mueller said this: "speed is complex & sometimes confusing".
He's right there.
He went on to say that there are lots of tools and metrics available to focus on online, but Google has settled on three key metrics that they believe measure the user experience (UX) of your site. As Google plans to make page experience an official Google ranking factor, meaning that they will form an official part of the equation that decides where your site will appear in the Search Engine Results Pages (SERPs)
The metrics in question – three specific page speed and user interaction measurements – are as follows: largest contentful paint, first input delay, and cumulative layout shift.
It all sounds a bit like digital mumbo jumbo and, as you know, we are anti-mumbo-jumbo here at Numagoo.
So let's break it down, in Layman's terms:
(source: Google Webmaster Blog)
Largest Contentful Paint – Largest Contentful Paint, or LCP, essentially means 'loading' – in this case, how long it takes to fully load the largest content element of the page.
First Input Delay – The First Input Delay, or FID, metric is a measurement of how soon a user can interact with a site. FID measures the time it takes between a user's first action on a site (for example, clicking a link) and that action being processed by the browser.
Cumulative Layout Shift – Finally, the Cumulative Layout Shift (CLS) relates to your site's visual stability – the extent to which the layout of the page shifts as the page loads.
You should consider all these things and more when building or updating your site.
How Do You Keep Track of Your Core Vitals?
As mentioned, you can do a quick check-up on your Core Vitals using the Google Lighthouse tool or using Page Speed Insight. It is important to note that for most sites there is insufficient field data for these tools to give an accurate reading and we are confident you won't find a web developer that sets any store by their simulated lab reports. When you have watched a site load with you own eyes in less than two seconds and Page Speed Insights claims that your LCP was 25.4 seconds, you learn a healthy scepticism for Google's measurement tools.
In order to make it easy for webmasters to measure the progress of their site toward Core Vital Health, Google have added some helpful reporting. By heading to the 'enhancements' section of your Google Search Console account you can view the Core Web Vitals data for your site, measuring performance over time and, hopefully, working toward a better page experience for your users.
So, Without Great Core Vitals, Its Game Over?  
Well… no.
The fact is, there are well over 200 different search engine ranking factors – that we're aware of. Speed has long been one of them.
Google's exact words were: "We will introduce a new signal that combines Core Web Vitals with our existing signals for page experience to provide a holistic picture of the quality of a user's experience on a web page." While Google is clear that the ranking signal will be 'page experience', and Core Web Vitals will be part of that, page experience also combines mobile-friendliness, safe browsing, HTTPs-Security and Interstitials (popups, for those of us that speak English). So Core Web Vitals is part of a ranking factor which, in turn, is one of hundreds. It might be the centre of the current digital 'buzz', most likely due to it being a concrete measure that developers can directly and unambiguously affect, but whether or not it is the place to focus your attention depends very much on how your site performs for the other 199+ ranking factors.
Google has some of the greatest digital minds in the world. It has financial resources most of us cannot begin to imagine. With all of this at its disposal, and if Core Web Vitals are… well… vital, we figured that Google would have them nailed.
So, using its own Page Speed Insights tool, we took a look at two of Google's sites: Learn Digital and Think with Google (below):
16/100 isn't the stellar performance score we would have hoped for from one of Google's own websites, and it only passes one of the three Core Vitals (FID) which is quite disappointing, particularly for a page with very few large assets to be slowing down the Largest Contentful Paint! We initially assumed this was an aberration, but Think With Google wasn't much more of a success story: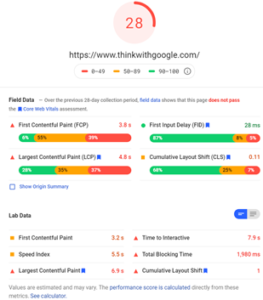 If the team at Google can't focus on top marks for the search engine's own sites, it begs the question: how important can Google really think its Core Web Vitals actually are?
Expanding our investigations a little further, we took a look at one of the biggest and best-known digital marketing experts in the world: Moz, a site which is always ahead of the curve when it comes to developments in the world of ranking and who have been pretty vocal about the importance of Google's newest official ranking factor.
Can Moz meet Google's expectations on the Core Web Vitals front?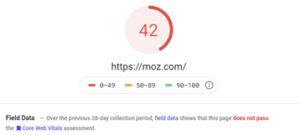 Yep, you guessed it. For all its articles and recommendations about Core Web Vitals as a ranking factor, Moz doesn't seem to be giving it a great deal of thought. Since we were on a roll, we also took a look at Hubspot – a Global phenomenon in the digital world and consistently at the top of Google. Unsurprisingly, Hubspot has a considerably better performance score, but even the Hubspot website doesn't pass the Core Vitals test!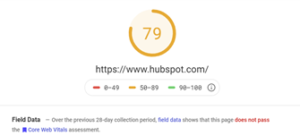 Do Core Web Vitals Matter Or Not?
Yes. They matter.
Core Web Vitals are part of a ranking factor, but it is important to remember that the page experience ranking factor is one of many. And it is arguably not the most important, either.
Core Web Vitals often don't reflect the real user experience – websites that appear to load instantaneously can be measured by Google as taking 20+ seconds to fully load – so if you really want to measure your site's performance,  we believe it's far more useful to judge your site speed with your own eyes and your user bounce rate. Otherwise, you are relying on a tool that struggles to agree with itself from one audit to the next, as well as reporting data that is out of line with what the user actually experiences.
SEO is a marathon, not a sprint, and it requires a holistic strategy that considers every touchpoint and all the elements that make a great user experience, from speed performance and layout through to great content, easy to navigate architecture, strong calls to action and pages that match search intent. We would never recommend that a business focuses on only one part of the ranking equation and, if we were to, there are a number of factors that would come well above cumulative layout shift or first input delay.
Reports and tools are great for a reference point but they have to be taken in context and it takes a full audit to get a true picture of why you might not be performing as well as you would like in Google. If you want some frank, no-obligation advice on how you can improve your search rankings and drive more leads or sales, Get in touch with the Numagoo team for a chat.